Features of proline stabilization include19:
Reduced IgG aggregation
Reduced dimer formation
Minimized fragmentation
Prevention of solution discoloration
Room-temperature storage*
*Up to 36-month room-temperature storage, as indicated by the expiration date printed on the outer carton and vial label.
How proline works
Proline interacts with hydrophobic groups in the IgG molecule, thereby reducing protein-protein association and dimerization; in other words, it stabilizes IgG molecules as monomers.19 The images below show dimer formation in IgG solutions with proline and without proline.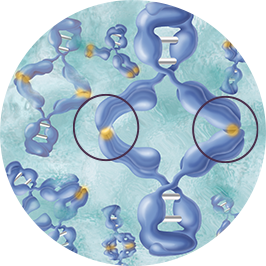 Dimer fomation occurs without proline
In solution, IgG molecules (shown in blue) reversibly bind to each other (circled).19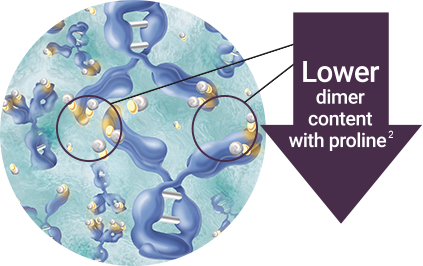 Proline reduces dimer formation
Proline may shield IgG molecules from binding together.19
Proline is rapidly cleared from circulation and does not accumulate after treatment.†20 Privigen is contraindicated in patients with hyperprolinemia.
†Clinical significance is unknown.